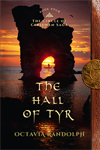 If you've read The Hall of Tyr, you'll know the name of the Baltic island of Gotland. It is a place I truly love. I've recently returned from there, and wanted to share some of its attraction with you.
I first visited Gotland in September 1999. I was on a long research trip through Sweden and Denmark, visiting Viking-era sites and museum collections, and saw many places of interest and beauty. But the island of Gotland left an indelible impression. Approaching an island by sea always captures the imagination – the dark landform rising from the water, being able to discern its limits but not its substance. That experience returned to me years later while writing the end of Book Three, The Claiming, when Sidroc and Ceridwen, lost at sea and with very limited resources, sight Gotland ahead. It became their home and haven.
The Hall of Tyr (written a full nine years after The Claiming, although in the novel but a few hours have passed…) is set almost entirely on Gotland, as Ceridwen and Sidroc settle in to make their new life together. Writing about the island, revisiting the history and nature books I had bought there, the photos taken there, I knew that at last the time had come when I must return. The fact that I had a dear Swedish friend graduating from the museum studies program at the University of Visby set the time – May 2015. Returning to Gotland allowed me to immerse myself in its unique island beauty, conduct valuable research, and bring you the photos and videos that keeps that spirit alive for me and which I hope you will enjoy as well.
And yes – I am at work on Book Five, also set on Gotland. I'll keep you posted, promise.
Firstly, thanks to our wonderful Airbnb hosts: Mariette Dahlgren and Mats Lund, at their beautiful cottage in Visby, and Luella Godman at Avonlea, her Connemara horse farm up north in Rute. We couldn't have ordered up kinder, more helpful, and more interested and interesting hosts than you were – thank you!
All photos on this page by Jonathan Gilman.
See my Gotland videos here. Read more about Gotland and treasure here.