This was a year of confusion, limitation, disappointment, and at times real fear. As we approach the Winter Solstice, the rebirth of the Sun, and thus welcome longer days of light, I want to give thanks with you for the good I experienced during these trying times.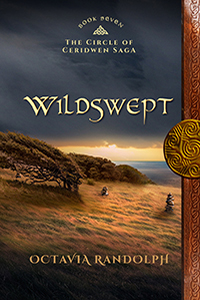 I of course did no travel, nor could beloved friends visit. This deep seclusion meant I could write an entire book in only eight months, a record for me. Wildswept: Book Seven of The Circle of Ceridwen Saga, was released on October 15th. I am so grateful for its warm reception and great success – thank you!
The Saga Tour 2020 – our first ever tour of Gotland, focusing on the landscapes and artifacts that inspired the Saga Books – due to have been held in August, was postponed, likely until 2022. I had put a great deal of effort into this seven day adventure, and was delighted that it sold out so quickly when I announced it in May 2019. But I hope 2022 might be our year!
Like all of us, my appearances were virtual, courtesy of Zoom. I was invited twice to appear on the excellent Isle of Jersey-based Virtual Literary Festival, talking about Historical Fiction with a distinguished panel of sister authors. In early May I was invited to appear on the public events show Live From America, talking about Sweden's response to the pandemic; and of course I held several live chats with readers within the Facebook Saga Group after Wildswept was released and we could gather and chat about it. These were great fun, and I continue to be impressed by the deep understanding and emotional acuity of readers as they contemplate the lives and direction of the Saga folk.
I tried to convey the feeling of "being here" on Gotland in a number of videos from 2020, including a Winter Walk in the Botanical Garden to begin the year;
a splendid Brass Fanfare delivered from one of the towers of the Domkyrkan S:ta Maria (Cathedral of St Mary, just down the street from where I live) during the bleak early months of the pandemic;
a Springtime Walk through our beautiful Botanical Garden within the medieval walls here in Visby;
a little Tour of St Olof's, one of my favorite church ruins here in Visby;
and to welcome Advent 2020, a season of hope, I took you on a pre-dawn Walking Tour of Visby as the town prepares for Jul.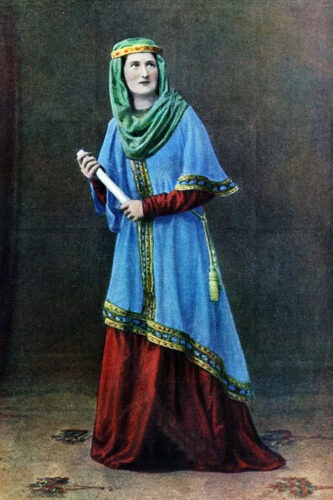 Other hopeful and happy news is the start of an entirely new historic costume for me, an elaborate Saxon gown a lady such as the Saga characters Modwynn or Ælfwyn would wear on festive occasions. The same wonderfully talented seamstress who created my two Norse gowns, Carrie Powell of Rochester, Washington has been again charged with the design and creation of this warm Winter wool gown. Another talented member of the Facebook Saga Group, Angela Cassidy, has been commissioned to weave my head scarf. I am hoping to wear this December 2021, when hopefully events such as Visby's Medieval Jul will again be held. Carrie and I shall be documenting the entire creation of this gown in the FB Saga Group. My inspiration is an Anglo-Saxon dress from an old book of costume.
If you have read at least Book One of The Circle of Ceridwen Saga, click here to join the Facebook Saga Discussion and Idea Group. We would love to have you.
Holiday Blessings on you all. Thank you for your support and interest over this past year. We'll get each other through this.
wes thu hal (be whole and hearty, in Old English)
Octavia 🏆