How long can you fight Fate? How far must you go to claim what is yours?
Shop: Amazon, Amazon UK, Apple Books, Barnes&Noble, Kobo || Audiobooks
The Claiming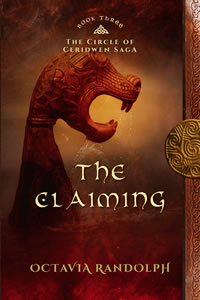 Book Three of The Circle of Ceridwen Saga
Sidroc the Dane has been in Angle-land for twelve years. The first nine were all hard fighting. He has won treasure beyond counting, and now peace for his men. But there is one thing he still desires: Ceridwen as his wife.
Now Fate conspires to tear Ceridwen and Sidroc away from Angle-land. Thrust together amidst great danger and hardship they fight to survive — and fight each other. Each day takes them farther from the loyalties and laws of the lands they have called home, and deeper into new challenges and opportunities. Ceridwen's ties to Kilton and all it represents are strong, yet Sidroc is steadfast in his claim to her. A rescued stranger stands between both of their desires, threatening to destroy all that Sidroc has worked and killed to preserve…
Meticulously researched and thrillingly brought to life
Shop now on: Amazon, Amazon UK, Apple Books, Barnes&Noble, Kobo || Audiobooks
List of Characters
Ceridwen, of the stronghold of Kilton in the Kingdom of Wessex
Ceric, her son
Godwin, ealdorman of Kilton
Ælfwyn, Lady of Four Stones in Lindisse
Sidroc, a Dane, Jarl of Lindisse