A Peace which must be defended. A vow which must be broken.
Shop: Amazon, Amazon UK, Apple Books, Barnes&Noble, Kobo || Audiobooks
Silver Hammer, Golden Cross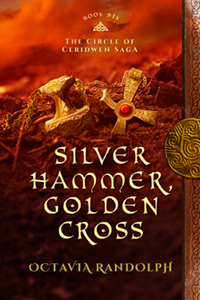 Book Six of The Circle of Ceridwen Saga
It is the final decade of the ninth century. The Peace between Wessex and the Danes long-settled in the Danelaw erodes. A new onslaught of Danes attacks Angle-land, trying once and for all to destroy Ælfred.
Ceric of Kilton, now a young man, travels across Kingdoms to visit his friend, Hrald of Four Stones – and to see Ashild, who he desires for his wife. But renewed hostilities threaten Ceric's hopes for deeper ties between strongholds.
And hundreds of leagues away on the Baltic island of Gotland, Hrald's father Sidroc the Dane must defy his Gods.
The revered Hammer of Thor. The sacred Cross of the Christians. And the conflict that pits two beliefs, two great war-chiefs, and three young people against each other.
Meticulously researched and thrillingly brought to life
Shop now on: Amazon, Amazon UK, Apple Books, Barnes&Noble, Kobo || Audiobooks