Draco
A smalti panel to serve as the wall backing above an oven. Made of smalti, 16 1/2″ tall x 48″ long (41.9 cm x 101.6 cm), on fibreglass mesh. I wanted a fire motif, and thought about Hephaestus at his forge, but then decided on something more horizontal. The dragon soars through clouds to breathe fire on my gas hob.

The Draco cartoon. The completed mosaic will have irregular edges as I've drawn here.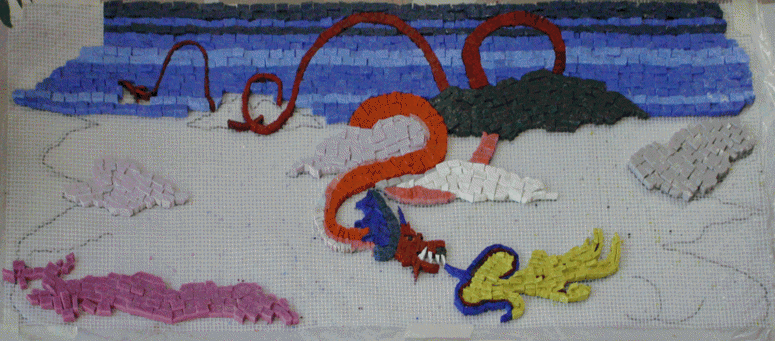 Draco on my work table. I'm using two different types of smalti. The clouds and sky are Venetian Orsoni smalti, and the body of Draco and the flame from her mouth are Mexican smalti from Mosaicos Venecianos de Mexico.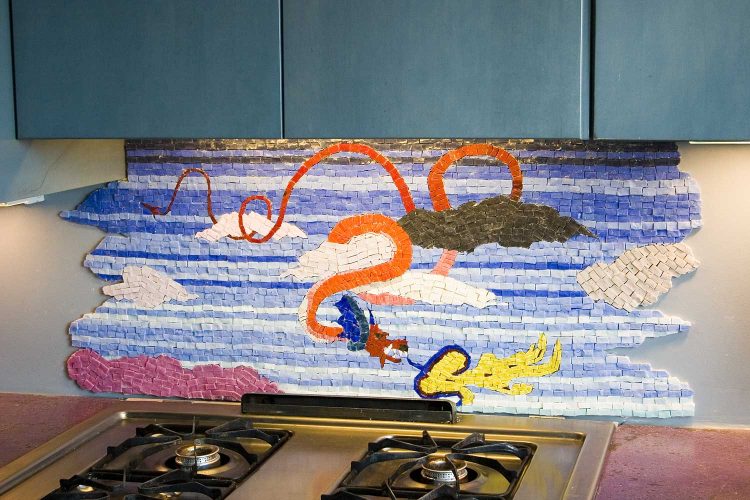 Draco installed behind the oven. I traced the cartoon onto the wall, carefully masked off the borders using painter's tape, and thoroughly scarified the surface to receive the mosaic to ensure a good bond. For the bonding agent I used high strength marble-setting mortar, with admix in lieu of water. Draco will not be grouted; smalti is typically left ungrouted to maintain its natural high relief, and I have continued in that tradition. It was a four-hand job lifting and positioning this heavy piece onto the wall, and I was fortunate to have a skilled friend to help. The careful surface preparation paid off, as you can see, for the painted wall surface on which Draco is mounted came through completely unmarred.
Nice to come downstairs in the morning and be greeted by a dragon.