The Saga Tour 2020!
Postponed – new dates to be announced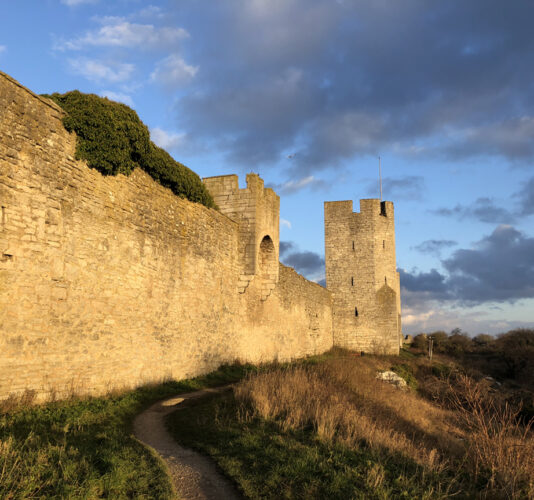 I am delighted to welcome you to an unforgettable week here on my adopted home of Gotland. Janine Eitniear, Founder of the Saga Group on Facebook, and Misi, Group Moderator, will also be joining us on this unique and personalized visit to the "pearl of the Baltic" – Gotland. The Circle of Ceridwen Saga will come alive for you as it never has, I promise. This is the first, and is very likely the only tour I'll ever give, so come and join us.
Ready to reserve your spot?  Click here.
Our adventure includes:
Transfer to and from Visby Airport to Hotel S:t Clemens
Seven nights at the Hotel S:t Clemens (which has the ruins of the medieval church of S:t Clemens in its garden, so to speak – how special is that.) Every room of this 30 room hotel has a private bathroom. Breakfast included each morning.
Welcome reception Friday, arrival day, at the Gula Huset Cafe ("Yellow House Cafe") adjacent to the hotel, where we'll enjoy Gotlandic sweets and coffee and tea, and introduce ourselves.
Three and a half days of guided bus excursions with our professional guide, Jan Luthman, and me. Jan is a native Gotlander, a former English teacher who trains guides here on the island (and he also my Swedish tutor, and a kind and courtly gentleman).
I have carefully planned these excursions to show you the places that have inspired the Saga. And I want you to have experiences that most visitors never have – things that make Gotland so distinctive a destination. Along the way you'll see exceptional landscapes, ancient monuments which Ceridwen and Sidroc would have seen, visit historic farms, and meet some wonderful Gotlanders. Oh, yes – and we shall eat some yummy food, as well!
This is what I've planned for you:
Trip North to Boge and Tjelvar's Grave (a ship setting marking the burial of Gotland's "first settler"), visit Vike Medieval Farm and garden (which will give us a very good idea of what Viking era farms looked like), lunch at Prima Gård in Bunge, on to Bunge Open Air Museum (which abounds in standing stones), drive through Kyllej (exceptionally charming sea side village, which the great Swedish botanist Linneas was much taken with), and a stop at Puttersjaus Farm in Rute – where those of us who wish to can milk cows.
Trip to Digerrojr in the eastern part of Gotland (ancient burial settings in deep forest; this is the place where I most feel Tindr's spirit), on to the brewmaster's farm in Ardre to sample dricka (homemade brew!), a stop at atmospheric Bronze, Iron Age and Viking-era graves and ship settings at Gålrums. At Folhammar on the East Coast I'll show you the place where Tyrsborg stood. (Yes!) Lunch in the pretty seaside community of Ljugarn at Smakrike ("The Kingdom of Taste"), one of the best restaurants on the entire island.
Trip south to Öja Church, one of the truly magnificent small churches on Gotland. Then we'll take the coastal route to Hoburgsgubban at the very southern tip of the island, enjoy towering rauks (limestone sea stacks) and coastal views at Holmhällar, and have lunch at Bottarve Museum Farm.
Half day trip to Brucebo, just north of Visby, the fascinating home and studios of Canadian artist William Blair Bruce (1859-1906) and his Swedish wife, sculptor Carolina Benedicks Bruce (1856-1935). Lunch looking at the Baltic at Själsö Bageri (Bageri = bakery. It's their bread I eat every day…)
We'll also tour the extraordinary collection of the Gotlands Museum, which houses so many of the picture stones the island is famous for. It's right in the heart of Visby, a short walk from your hotel. Jan Luthman and I will be your guides.
And let's not forget: Tea and Honey Cakes at my house! Let my dear neighbour Mariette and I fill you with goodies as we relax in my home and garden.
To wind it all up, we will enjoy a Medieval "Farewell" Feast on Thursday night, August 27th in a fabulous medieval cellar restaurant. (Wear your costume, if you have one!)
There will be plenty of free time to explore Visby on your own, wander its picturesque winding streets, relax in the beautiful Botanic Garden (right across from the S:t Clemens Hotel), visit the many medieval church ruins, shop for unique Gotland-made and Swedish-made crafts and clothing in local boutiques, sample Visby's many cafes and restaurants, visit the interesting Fine Art Museum, swim in the Baltic, rent a bicycle and explore the coastline, and so much more.
Tour Cost
As the tour operator I'm working with is a Swedish company, the tour cost is payable in Swedish Kronor (SEK), which your credit card company will automatically convert from your home currency.
Tour cost, including airport transfers, seven nights at the hotel with breakfast, all bus excursions, museum entries, and lunch on excursion days, Welcome Reception, "Tea and Honey Cakes" at my house, and Farewell Medieval Feast is 33,785 SEK (US $3,525 at today's exchange rate) per person double occupancy, and 36,900 SEK (US $3,850 at today's exchange rate) single occupancy. This includes VAT (value added tax) of 25%.
We have 22 spaces available. We understand interest is high, and to make the selection process as fair as possible enrollment will be on a first come, first serve basis. We will be accepting deposits via credit card of 5,000 SEK (approximately US $500) beginning June 1st 2019. If more than 22 deposits are received, an alternates list will be created. A secondary payment of 5,000 SEK (approximately US $500) will be due February 2020. Final payment will be due May 21, 2020, 90 days before the commencement of the Saga Tour.
Additional Information
This tour is open to all Saga Group members, but because of anticipated demand, if you are travelling with a non-Saga Group partner, we must limit the bus excursions and other Group activities to Saga Group members only. The Hotel S:t Clemens will be able to accommodate both of you, and your partner can enjoy himself/herself in Visby and environs. And your non-participating partner will be invited to both the Friday arrival Welcome Reception and the Medieval Farewell Feast. The rate for non-participating partners sharing a double room will be 7,995 SEK (approximately US $800 including VAT). This includes the hotel stay with breakfasts, Welcome Reception and the Farewell Feast. (Note to golfers: Gotland is something of a golfer's paradise, with many challenging and beautiful courses. If you are coming with a golf enthusiast, the tour agency I am working with can take him or her to a variety of the island's best courses, where they can rent high quality clubs and enjoy playing the same links Swedish golf champions rave about.)
We know you will be coming from different points on the globe, but your destination arriving Sweden should be Arlanda airport, which serves Stockholm. From there SAS makes frequent, 35 minute flights to Visby, where you'll be met on August 21st and taken to the Hotel S:t Clemens.
You have all learned quite a bit about Visby and Gotland from my own experiences, but let me repeat here: The island, and town, is safe and beautiful. Nearly everyone speaks English to a high level, but entering a store or restaurant with a friendly smile and a "hej" (Hi! which sounds just like "hey!") before you break into English will earn you brownie points.
The food is uniformly good, with superb dairy products. As you know I'm a vegetarian, but Gotland is famed for its lamb, which people say is "pre-seasoned" as the sheep eat so many wild herbs in the countryside. Seafood is also abundant. Sweden is a nation of coffee drinkers and coffee everywhere is strong and fresh. (Lots of teas of all kinds for tea drinkers as well.) Every cafe has great pastries and smörgås – open face sandwiches, from which the word "smorgasbord" comes. If you need a fast food fix, hamburgers and hot dogs are readily available, especially in the Summer. And Swedish ice cream is extra-special. For our lunches out and our Farewell Feast, vegetarian options will of course be available.
I also want to remind you that this is a tour for the reasonably able-bodied. As I've mentioned before, I'll be leading you on forest walks, and along shingle (pebbly) beaches. The streets of Visby are paved in square cut blocks of limestone, and vary in smoothness, and some lanes are paved in round sea stones. The footing can be uneven. None of us needs to be an Olympic athlete, but all of us should be able to walk one US mile at a comfortable pace. If you can do that, you'll be in fine shape for the treasures I want to share with you.
Ready to reserve your spot?  Click here.
Some links you might enjoy looking at:
The Hotel S:t Clemens: https://www.clemenshotell.se/
Bunge Open Air Museum: https://www.bungemuseet.se/en/
Brucebo Historic Artist Home and Studio: https://www.brucebo.se/
Also, see my videos on Tjevlar's Grave, Ag Tack (Bunge Museum) and Öja Church on my website Videos page to get an idea of some of the places we'll go to: https://octavia.net/video/